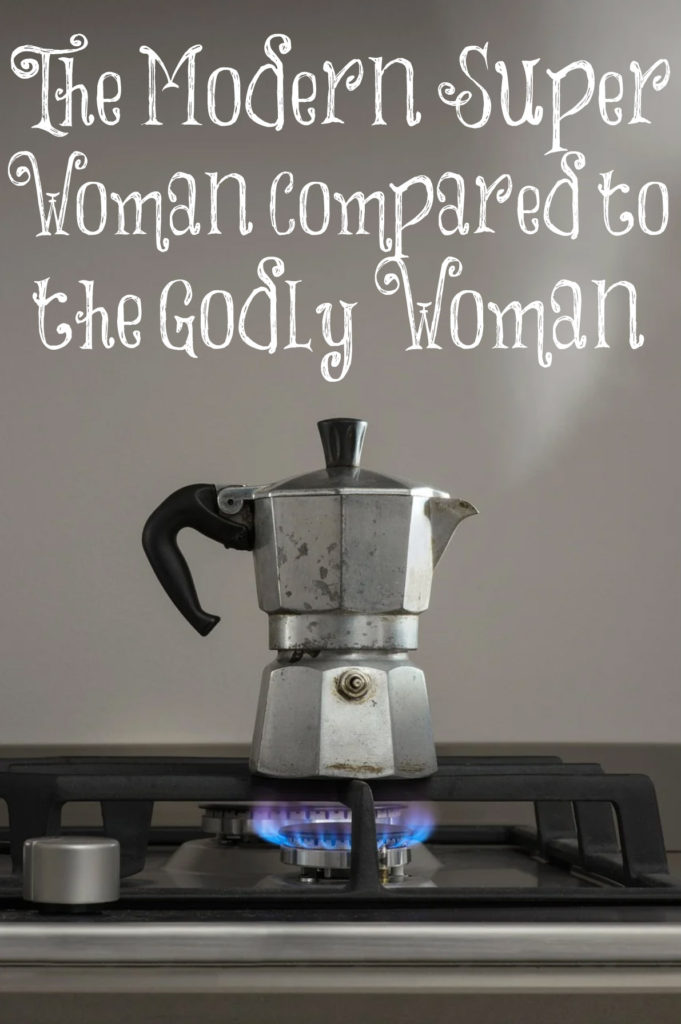 In 1996, John MacArthur preached a series of sermons called The Fulfilled Family. In my opinion, his two sermons on God's Pattern For Wives are my favorite sermons of his on this topic. Here are some quotes from Part 2 on this series.
"What kind of woman is the prototype of the '90s woman? What is the modern super-woman supposed to be? Maybe something like this: she works, builds her own career, demands equal pay, refuses to submit to her husband, demanding equality with him in everything, has an affair or two, and a divorce or two. She exercises her independence, relies on her own resources, doesn't want her husband or children to threaten her personal goals, has her own bank account.
"She hires a maid or a cleaning service, eats out at least 50 percent of the time with her family or without them, makes cold cereal and coffee, the standard breakfast for her family, quick frozen meals usual dinner fare, or she calls Domino's Pizza, and expects her husband to do his share of the housework. She is tanned, coiffured, aerobicized, into body-building shape, shops to keep up with the fashion trends, makes sure she can compete in the attention-getting contest, puts the kids in a day care center, makes sure each has a TV in his room, or a radio, or a CD player so they can be entertained. She is opinionated, demanding, wants to be heard, eager to fulfill all of her personal goals.
"That is the modern woman of the '90s that is applauded by the culture. She can't stay married, or for that matter happy, and her kids get into trouble, and sometimes drugs. She's far from the woman God has called the excellent woman."
Now, he compares the modern woman to a godly woman:
"She is to the home keeper, to take care of her husband, to provide for him and for the children, all that they need as they live in that home. Materially, she is to take the resources the husband brings home and translate them into a comfortable and blessed life for her children. She is to take the spiritual things that she knows and learns and pass them on to her children. She is a keeper at home. God's standard is for the wife and mother to work inside the home and not outside.
"For a mother to get a job outside the home in order to send her children even to a Christian school is to misunderstand her husband's role as a provider, as well as her own duty to the family. The good training her children receive in the Christian school may be counteracted by her lack of full commitment to the biblical standards for motherhood. In addition to having less time to work at home and teach and care for her children, a wife working outside the home often has a boss to whom she is responsible for pleasing in the way she dresses and a lot of other matters, complicating the headship of her husband and compromising her own testimony. She is forced to submit to men other than her own husband, likely to become more independent, including financially in fragmenting the unity of the family. She is in the danger of becoming enamored by the business world or whatever world she's in, and finding less and less satisfaction in her home responsibilities.
"Many studies have shown that most children who grow up in homes where the mother works are less secure than in those where mother is always at home. I think that should be obvious. Her presence there, even when the child is in school, is an emotional anchor. Working mothers contribute so often to delinquency and a host of other problems that lead to the decline of the family.
"It's not that mothers who stay at home are automatically or categorically more spiritual. Many mothers who have never worked outside the home do very little in the home to strengthen their families: gossiping, watching ungodly and immoral soap operas and a host of other things can be as destructive as a working mother. But a woman's only opportunity to fulfill God's plan for her role as wife and mother is in the home."
I will therefore that the younger women marry, bear children, guide the house, give none occasion to the adversary to speak reproachfully.
1 Timothy 5:14
The Modern Super Woman Compared to the Godly Woman
Total Page Visits: 2478 - Today Page Visits: 1