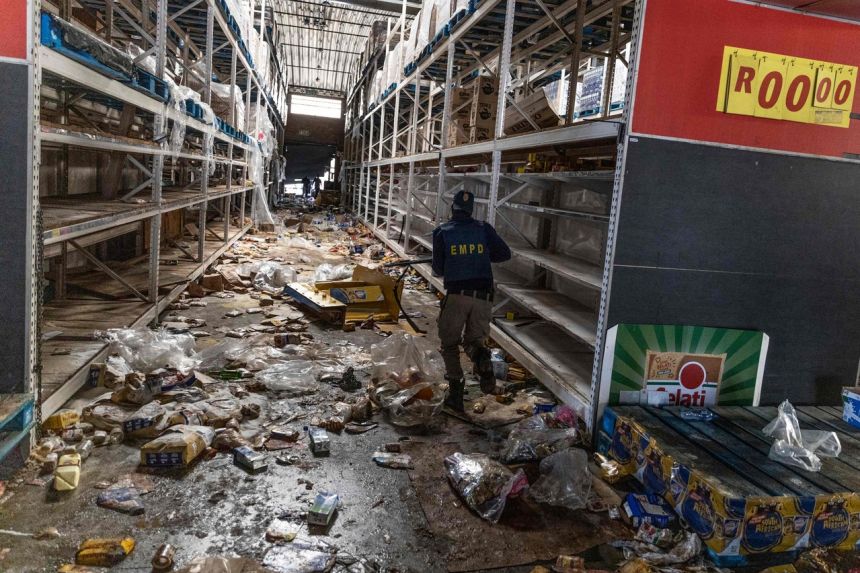 "When this happens in USA its a peaceful protest. When it happens in any another country its RIOTS…."
Like moths, Communists have shredded the Western social fabric. Is the blanket about to turn to dust?
Brandon Smith – "It is also only a matter of time before a covid variant (like the Delta variant) is used as an excuse to bring back lockdowns across the country. And make no mistake, they will attempt harsher and harsher mandates similar to those in South Africa in order to intimidate people into submitting to the jab and the passports. At this stage, the US government will have not only mass riots on their hands, but also an armed rebellion. Undoubtedly, supply chains will crash if they have not already been disrupted by lockdowns or a related financial crisis."
"South Africa is a warning to Americans: Do not get too comfortable. Do not get complacent. Be ready for the next shoe to drop. Prepare accordingly, and understand that a fight is coming."
America Is Only One Step Away From A South African-Style Social Implosion
by Brandon Smith
(excerpts by henrymakow.com)

The South African government's response to covid is brutal and ongoing. The lockdowns are some of the most strict in the world with curfews, zero gatherings indoors or outdoors, alcohol bans and restrictions on travel through certain areas. A large majority of the population has been blocked from participation in the normal economy. The public has been awaiting economic relief for over a year, but the hype and fear mongering around the "Delta variant" has dashed all hope. Lockdowns returned in full force in June.
There is NO EVIDENCE that the Delta Variant is as deadly or more deadly than the original iteration of covid, and covid's overall IFR (Infection Fatality Rate) is a paltry 0.26% according to the CDC and other independent studies. Meaning, draconian lockdowns are still being implemented over a virus that 99.74% of people will easily survive.
Riots in Johannesburg and elsewhere erupted, with over 200 dead and billions in property damage and theft. In this case, it is hard to outright condemn the looting because the government continues to block citizens from earning a living in the name of stopping covid.
This is on top of South Africa's already high poverty level and the fact that, unlike the US with its world reserve currency, South Africa does not have the same ability to print stimulus checks from thin air to placate the masses and hide the damage.
Not surprisingly the ANC refuses to acknowledge that the primary cause of the riots has been their own lockdown policies. Instead, they have blamed the the crisis on the arrest of former president Jacob Zuma for contempt of court charges as the trigger. This may have added gasoline to the fire, but it was not the cause. When the government is actively sabotaging the ability of millions of people to work and feed their families the only other option left for most is theft, or revolution.
Supply chains in the country have been completely disrupted and the only retail outlets with stock are those protected by the military or those protected by business owners armed with guns and baseball bats. Only 6% of the population is allowed to own firearms under South Africa's gun control bureaucracy and red tape. The government has a near monopoly on force and it is unlikely that the mobs will change much in terms of policy, but they do make life hell for the rest of the population.
The civil unrest in this region is, in my opinion, a preview of what is to come in the US and other western nations. We have already seen riots in France, Italy and other parts of the western world over legislation that would make the experimental mRNA vaccines mandatory through vaccine passports. I would point out that the liberty media has warned OVER AND OVER that governments would try to enforce vaccine passports and make vaccines mandatory. We were called "conspiracy theorists" for this; now we are proven right once again.
Covid laws will lead to unrest in the US, just as they have led to unrest in South Africa. The Biden Administration continues to push for total vaccination of Americans despite all science running contrary to his initiatives and claims. As I outlined in my article 'Biden's Vaccine Strike Force Plan Stinks Of Desperation', the facts on covid do not support vaccine mandates or passports, and this is why around half the US population continues to defy the restrictions and refuses to take the jab. The only reason why medical tyranny has been beaten back in the US is because around 50% of US households are armed. We are not yet South Africa because of our gun rights, so be thankful for the millions of gun owners out there creating a deterrent to tyranny.
The goals of the establishment will remain, however. They are going to continue to ignore the fact that Covid's death rate is a mere 0.26% of those with confirmed infections. They are going to continue to ignore the fact that natural immunity is a part of herd immunity. They are going to continue to ignore the fact that covid infections and deaths dropped off a cliff in January of 2021 well before the vaccines were rolled out in the US. And, they are going to continue to ignore the fact that the experimental mRNA vaccines have no long term testing to prove they are safe for humans.
The science is unimportant to them. Covid is only a tool for gaining control. They do not care about public safety in the slightest.
ECONOMIC DECLINE & THE DARK CLOUD OF INFLATION

There are some differences between the US and South Africa in terms of motivations and economy, but the gap is not as wide and some might think. The US is exhibiting similar signs of decline in terms of poverty, small business closures and inflation.
South Africa's unemployment rate and poverty rate appears much higher, but the US has the ability to hide real poverty through temporary stimulus measures, welfare programs and eviction moratoriums. When the covid checks run out and evictions return, we are going to see a massive spike in poverty levels in the US once again. Furthermore, core price inflation has hit 30 year highs due to trillions in money printing and dollar devaluation, along with struggling supply chains. For now, increased demand created by covid checks is giving the illusion that the economy is in recovery, but just as home sales are now plunging after a short term spike, so too will demand in most sectors of the economy.
This does not mean that prices will fall with demand, however. For example, lumber prices are in decline as demand lessens, but after rising by 300% in some areas they have a long way to go and will probably never go back to their pre-pandemic levels. We are now seeing the same dynamic happening in housing sales vs. house prices. When demand is falling but price inflation continues to rise or remains high, this is a sign of a stagflationary crisis. And if this is the case, then the US economy will falter dramatically in the coming months, leading to poverty levels similar to South Africa. Money printing is a temporary fix that leads to longer term disasters.
It is also only a matter of time before a covid variant (like the Delta variant) is used as an excuse to bring back lockdowns across the country. And make no mistake, they will attempt harsher and harsher mandates similar to those in South Africa in order to intimidate people into submitting to the jab and the passports. At this stage, the US government will have not only mass riots on their hands, but also an armed rebellion. Undoubtedly, supply chains will crash if they have not already been disrupted by lockdowns or a related financial crisis.
The question at that point will be this: Who will rebuild? If it's the elites and the covid cult, then freedom will disappear forever. If it's liberty minded people, then there might be a chance to bring our civilization back from the brink. Everything depends on who is left standing after the chaos subsides.
South Africa is a warning to Americans: Do not get too comfortable. Do not get complacent. Be ready for the next shoe to drop. Prepare accordingly, and understand that a fight is coming.
The establishment will place its bets that the unrest and economic disaster will create manufactured consent. They believe that the public will be sufficiently desperate and will beg for totalitarianism as a solution. Do not find yourself among the desperate, and if you can, organize your community to weather the storm.
Finally, always remember who the people are that caused this mess in the first place. Rioters and looters are going to be a problem, but they are not the true enemy. The people behind the curtain need to be dealt with if we are ever going to find peace again.
———-Related – South Africa: 5 Police Officers Arrested in Connection with Ghastly Crucifixion Murder of Brendin Horner
https://www.henrymakow.com
Total Page Visits: 1852 - Today Page Visits: 3