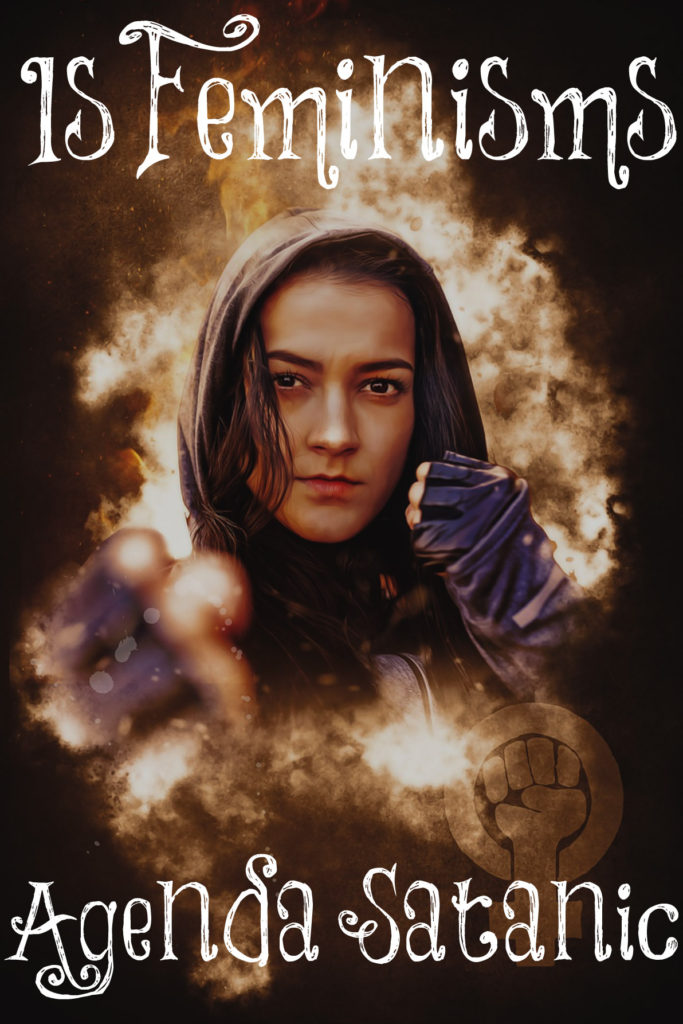 A few days ago, I wrote that feminism's agenda is satanic in origin. A woman asked me if I could provide Scripture to back this claim up.
Let's look at God's agenda for women from Titus 2:3-5:
"The aged women likewise, that they be in behaviour as becometh holiness, not false accusers, not given to much wine, teachers of good things; That they may teach the young women to be sober, to love their husbands, to love their children, To be discreet, chaste, keepers at home, good, obedient to their own husbands, that the word of God be not blasphemed."
Have you ever heard feminists teaching women to remain sober? Sober doesn't only refer to not drinking much alcohol, but also being sober minded. "Not mad or insane; not wild, visionary or heated with passion; having the regular exercise of cool dispassionate reason." Feminists are NOT sober minded. They are fueled by their emotions, feelings, and passions. You can clearly see this in my comment section on Facebook. God's ways repulse them, since His ways are the opposite of what they've been taught all of their lives.
Have you ever heard feminists teaching women to love their husbands? No. They teach women if they aren't "happy" in marriage, then leave and divorce him. They will use the word "abuse" liberally for any woman who doesn't like the way their husbands treats them, even if there is no abuse. They make all women victims in marriage. If you don't want to give him sex, then don't. If someone teaches women to not deprive their husbands sexually, they yell, "Marital rape!" They teach wives that they're lives are NOT going to revolve around their husband's lives, because they fought for independence from men.
Have you ever heard feminists teaching women to love their children? NO! They want women to have "freedom" and careers, and put their children into government paid daycare and public schools to be indoctrinated in Marxism and Feminism. They want women the freedom to have their babies slaughtered in their wombs, if it's not a convenient time to have a baby or will keep women from their "dreams and goals."
Do feminists teach women to be discreet? Discreet means "Prudent; wise in avoiding errors or evil, and in selecting the best means to accomplish a purpose; circumspect; cautious, wary; not rash." No! They teach them to attend college, amass a ton of debt that will keep them in bondage for years, and then go work for a boss many years to pay off the debt. When the young women go to college, they can now pop a pill and have sex without consequences, although they fail to mention that abortion, infertility, and STDs are some of the consequences.
How about being chaste? Do women teach this? NO! This is why they were SO offended by my post "Men Prefer Debt Free Virgins Without Tattoos." They told me that simply by teaching women to be virgins (which doesn't necessarily even include being chaste), I was judging women! They claim I am judging women by everything I teach, even though it's exactly what God wants me to teach. Feminism teaches women to be the opposite of being chaste. Sexual freedom is their clarion call.
They certainly don't teach women to be keepers at home. They will even use all of the career women in the Bible to negate God's clear command on this issue. (There were no career women in the Bible.) They have such a repulsion to this teaching that it makes it hard for women like me to even teach it. I was actually forbidden from teaching it in one church, since it would offend the career women. Imagine caring more about offending women than having women learn God's will for them.
Lastly, have you ever heard a feminist teach women to be obedient to their own husbands? Of course not since this always leads to abuse, they claim. They simply don't want to obey God, so they twist His commands into something ugly. They tell me they're "partners" with their husbands. They'll gladly go off to work and submit to their boss all day long, but forget working hard at home for their families and submitting to their husbands.
So is feminism satanic in origin? Of course, it is! It's the same sin that Eve had when confronted with the question by Satan, "Hath God said…?" And all of the feminists shout, "NO!"
Whose adorning let it not be that outward adorning of plaiting the hair, and of wearing of gold, or of putting on of apparel; But let it be the hidden man of the heart, in that which is not corruptible, even the ornament of a meek and quiet spirit, which is in the sight of God of great price. For after this manner in the old time the holy women also, who trusted in God, adorned themselves, being in subjection unto their own husbands: Even as Sara obeyed Abraham, calling him lord: whose daughters ye are, as long as ye do well, and are not afraid with any amazement.
1 Peter 3:3-6
Is Feminism's Agenda Satanic?
Total Page Visits: 2490 - Today Page Visits: 2