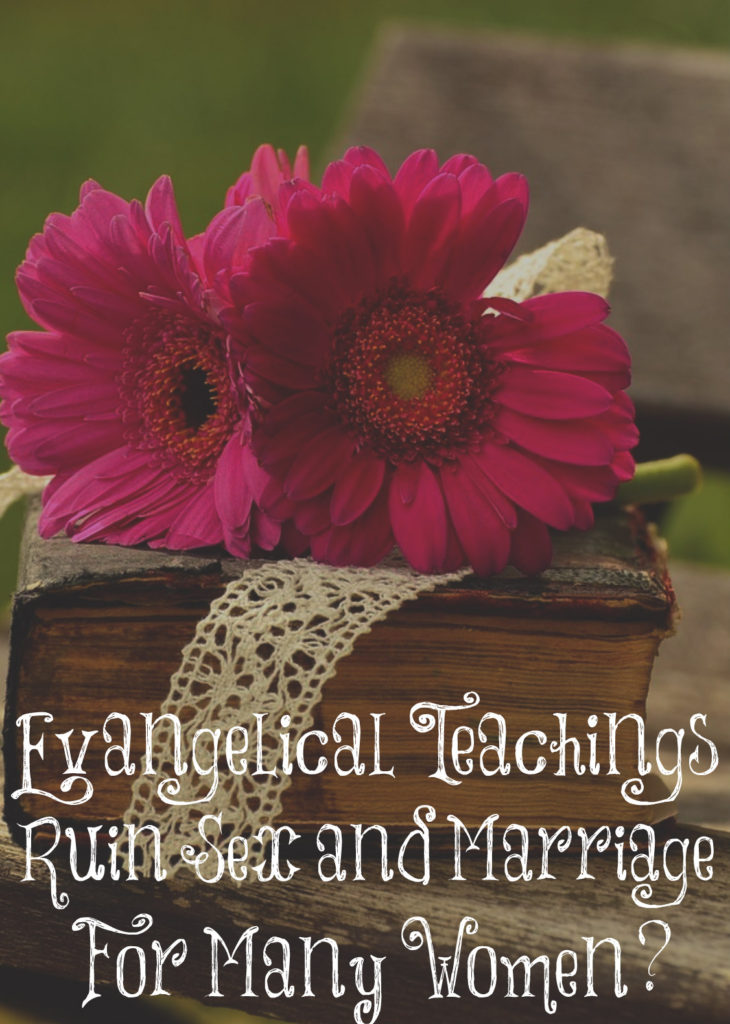 According to Sheila Gregoire, my teachings to women ruin sex and marriage for women.
"Among those harmful teachings, she [Sheila] said, is the practice of 'obligation sex' in Christian marriages, which proponents like The Transformed Wife blogger, Lori Alexander, argue is good for marriages."
Then she quotes me from a video I made last month:
"'We don't use sex to manipulate our husbands. We don't deprive our husbands sexually. We give it to him willingly and freely, because we love pleasing our husbands. So women, rid yourself of that matriarchal spirit today. Just give it to the Lord. It's an idol in your life. It's hurting your marriage and could potentially destroy your marriage,' Alexander, who has been married to her husband since 1980, warned in a video shared on YouTube last month."
How did I come to these conclusions? From God's Word: "Let the husband render unto the wife due benevolence: and likewise also the wife unto the husband. The wife hath not power of her own body, but the husband: and likewise also the husband hath not power of his own body, but the wife. Defraud ye not one the other, except it be with consent for a time, that ye may give yourselves to fasting and prayer; and come together again, that Satan tempt you not for your incontinency." (1 Corinthians 7:3-5) Does she ever teach these verses to women?
How do women decide to give their bodies willingly to their husbands? By learning to love their husbands deeply and wanting the best for them. By understanding that most men have higher sex drives than women, and God created marriage as a place where sexually intimacy can happen freely: "Nevertheless, to avoid fornication, let every man have his own wife, and let every woman have her own husband" (1 Corinthians 7:2). By understanding that we reap what we sow (Galatians 6:7), and we are called to be living sacrifices (Romans 12:10); our bodies aren't our own (1 Corinthians 6:19). Yes, if a woman is experiencing problems sexually, like pain, she needs to seek the advice from a doctor and/or an older, wise woman.
More from the article written by The Christian Post:
"For Gregoire, however, the Jezebel Spirit isn't a biblical concept." (She must not have studied Jezebel in the Bible, because she is certainly there.)
"'Jezebel Spirit is not a thing in the Bible and what she's really doing is she's giving her opinions, but she doesn't have any research to back it up,' Gregoire said. 'She (Alexander) has said things like there's no such thing as rape in marriage, and really denies emotional abuse in all of these things and just tends to blame women for marriage problems.'"
Here is a post I did on marital rape a few years ago. "Men who rape their wives and are physically abusive to them, are mean, angry, and/or evil men. Their wives' godly and submissive behavior does not cause them to be abused. The men are solely responsible for their abuse, and these women need to seek help as soon as possible. However, many women today want to use the abuse label to stop me from teaching God's beautiful ways to women, but I will not. I will not fear the angry women's backlash towards me to stop teaching women what God requires of them in marriage."
Sheila also lied about me denying emotional abuse. I have women come to me for mentoring who are being emotionally abused by their husbands. I have seen women be mentored by godly, older women in these situations who learn to stay in their marriage yet not allow their husbands to steal their joy. They learn to not take their husbands' comments to them personally, but instead ping them off of their shield of faith right up to the Lord. They understand that they are in a spiritual battle, not one against flesh and blood (Ephesians 6:12). My goal is to not help destroy marriages, but to save them in any way possible.
Does Sheila ever quote the verses in 1 Corinthians 7 in her book? Does she ever teach women to not deprive their husbands sexually as God commands? Does she ever teach women to learn what pleases their husband as God commands (1 Corinthians 7:34)? Do I tend to blame women for marriage problems as she claims? I only teach women. I am forbidden from teaching men (1 Timothy 2:12). I only work with women. Women have no ability to change their husbands. I want women to love the Lord and His ways. I want them to do what is in their power to have great marriages, and even win their disobedient husbands without a word by their godly behavior as God commands (1 Peter 3:1,2). Does Sheila ever teach this?
Sheila's entire premise that evangelical teachings ruin sex and marriage for many women is baseless, as if God's Word isn't sufficient. This is exactly what all of the false teachers with their false doctrines claim. God's Word is sufficient! Many studies have proven that Christian married women have the best sex! "Per a new study, women in highly religious relationships were twice as likely as their secular peers to say they were satisfied with their sexual relationship."
Now I beseech you, brethren, mark them which cause divisions and offences contrary to the doctrine which ye have learned; and avoid them.
Romans 16:17
Evangelical Teachings Ruin Sex and Marriage For Many Women?
Total Page Visits: 1021 - Today Page Visits: 1