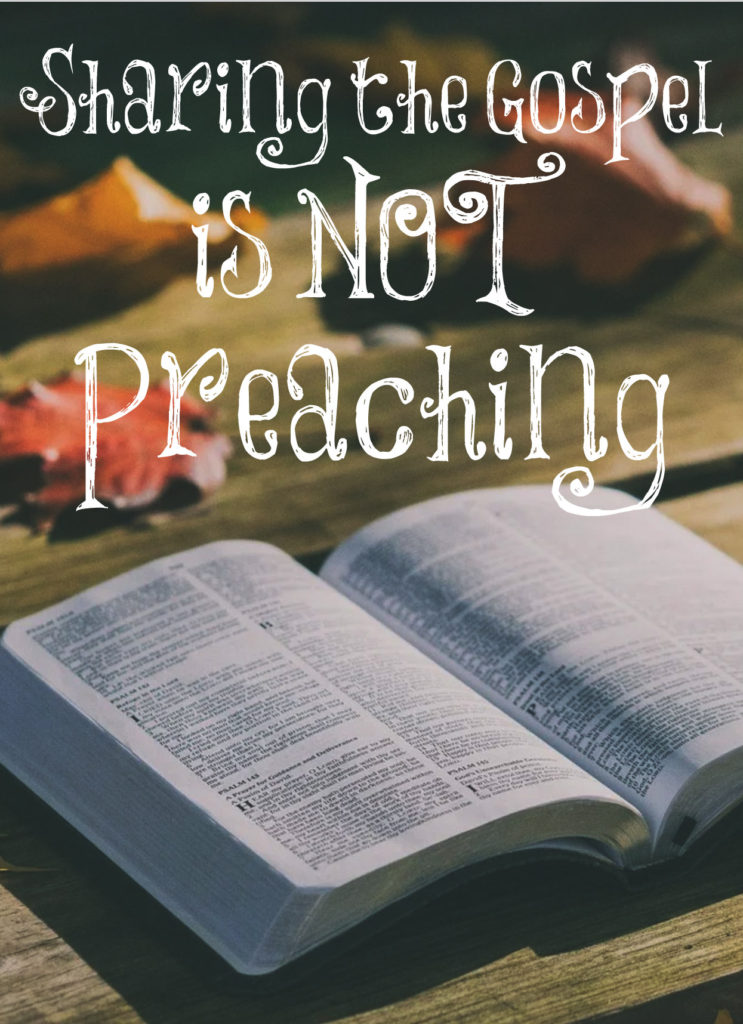 My mother-in-law has never preached behind a pulpit, but she's consistently sharing the Gospel with others. She's never preached to a group in a church service nor has she preached on a street corner or anywhere else. She is friendly to the people in the stores she shops in. She invites neighbors into her home and shares the Gospel with them. She makes friends with the children in her neighborhood, and teaches them to make things. She loves sharing the Good News of the Gospel with whoever will listen.
My father-in-law was a pastor-missionary. He stood behind the pulpit almost every Sunday and preached to the congregation, as elders are commanded to do by God.
A close friend of mine is like my mother-in-law. She witnesses to those in the grocery store, to waitresses, and to her hair stylist once she has developed a relationship with them. She goes to coffee shops, and starts up conversations with anyone who she sees needs encouragement. She has never stood anywhere and preached. She does teach some women biblical womanhood when they need advice about their marriage or child raising.
If you go through the Gospels, Acts, and the rest of the New Testament, you will notice that only men preached. John the Baptist, Jesus, and His Apostles went around preaching the Good News of the Gospel. The women, we are told, went to go *tell* others about Jesus. They never preached. They are never given the ministry of preaching. For all of you who study the Word, this will be made clear to you.
Here are the 1828 Webster Dictionarydefinitions of preach and teach:
PREACH: To discourse on the gospel way of salvation and exhort to repentance; to discourse on evangelical truths and exhort to a belief of them and acceptance of the terms of salvation. This was the extemporaneous manner of preaching pursued by Christ and his apostles. Matthew 4:10. Acts 10:14.
TEACH: To instruct; to inform; to communicate to another the knowledge of that of which he was before ignorant.
"And Jesus went about all Galilee, teaching in their synagogues, and preaching the gospel of the kingdom, and healing all manner of sickness and all manner of disease among the people" (Matthew 4:23) The Bible makes a clear distinction between teaching and preaching. So should we.
Paul wrote this exhortation to Timothy: "Preach the word; be instant in season, out of season; reprove, rebuke, exhort with all long suffering and doctrine" (2 Timothy 4:2). "The language of the original here is abrupt and emphatic, written evidently under strong emotion and with intense earnestness. St. Paul charged his friend and successor with awful solemnity, as we have seen, 'preach,' or proclaim. loudly and publicly, as a herald would announce the accession of his king." (Ellicot's Commentary) "Preach; proclaim like a herald, cry like a common crier in the hearing of a multitude." (Matthew Poole's Commentary) Preaching was a ministry given only to men.
Women were a vital ministry in Jesus' time on earth. They helped him in any way that they could. Whenever Jesus healed a woman, she would get up and immediately serve Him by fixing food for Him. Women tend to elevate preaching over serving. They are both extremely important in the ministry God has given to us.
God doesn't command older women to preach biblical womanhood to women in Titus 2:3-5. God never commands women to preach anywhere in his Word. No, He commands we *teach* young women, and He gives us specific instructions on what we are to teach. All of the women standing behind pulpits and preaching are in direct rebellion to God's Word. They are leading many astray.
Christ sent me [the Apostle Paul] not to baptize, but to preach the gospel: not with wisdom of words, lest the cross of Christ should be made of none effect.
1 Corinthians 1:17
***Here's a post written by Elizabeth Prata on What Can Women Do on Stage During Church Services? which I wholeheartedly agree with!
Sharing the Gospel is Not Preaching
Total Page Visits: 1122 - Today Page Visits: 1