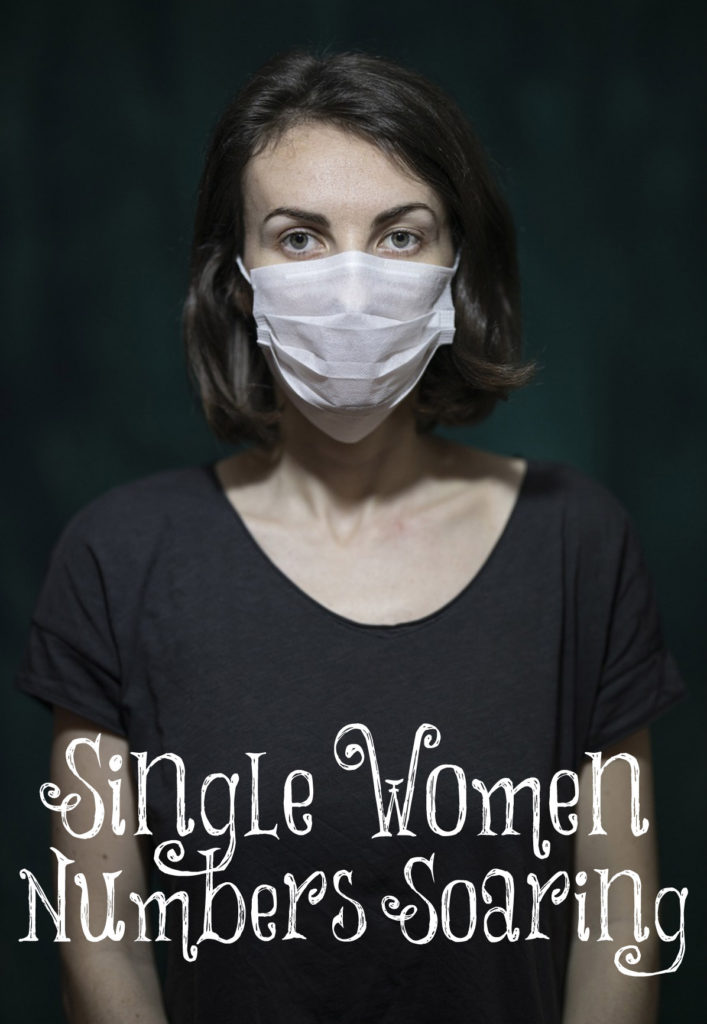 CNN Business had a headline the other day that read, "By 2030, 45 percent of working women aged 25 to 44 in the United States will be single, the largest share in history." The man who shared this on Twitter, wrote above it, "Female depression also at all time highs. Just a coincidence."
Women will often say that women are taking positions of authority, because men have abdicated their positions. No, it's women who have abdicated their positions at home with their children. Men haven't abdicated theirs.
God's curse after the Fall for women was that they would have pain in childbirth. Child birthing and raising children was their God assigned role in life. God's curse for men is that they would toil in the soil. They would have to work hard in order to support their families. Women didn't like their God assigned role, so they left their homes in droves and competed for men in the workforce. Feminism had convinced them that marriage and being home were bondage.
You see, Satan always persuades people to do things upside down. Workforce for women is bondage, not being wives and mothers at home. Now, instead of being home and caring for their families (eternal investment), they are out in the workforce working for strangers (leads to loneliness and depression). Feminism has made women unattractive to men. Most men don't want strong, aggressive, independent women. They want gentle, kind, and loving women who want to be protected by a man.
Marriage has been on the decline since the sixties and "free love" movement, and it continues. The worst part is that those in the Church are mimicking fallen culture in this area. I will tell you what I think we need to steer this ship around. Churches NEED to be sound in doctrine. They need to be preaching/teaching truth from the pulpit.
We began a new church a month ago. Sad to say, it's the first biblically sound church I have ever attended. The singing is biblical (no Hillsong, Bethel, or Elevation), the preaching is solid and the preacher uses Scripture throughout the sermon, and the elders are all men. There are many other things I love about this church, but these are the main reasons. The Pastor of the junior and senior high is just as good of a Bible teacher as the main preacher. Those teenagers are learning solid Bible teaching.
There's a 29 year old woman I reached out to on Instagram. She is solidly biblical. I wanted to know if she was homeschooled, since she is so wise. She said she didn't believe in the Lord until she was 22 and then attended a solid, Bible preaching/teaching church. It helped her to grow in the wisdom and the knowledge of the Lord quickly. Few churches are like this.
As these teenagers grow older, churches need to do things to get the young women and men together in groups often to encourage them to get to know each other. It's okay for 17 years old and older to begin thinking about marriage in a few years, searching for a godly spouse. Biblical womanhood needs to be taught to the young women. The young men need to be taught to work hard and want to provide a living for their families. We shouldn't make the young wait until all of their ducks are in order to marry. All this does is promote fornication and young women chasing dead-end careers.
This culture is headed downhill fast. Find a solid, Bible believing church even if you have to drive a bit. Make sure you are teaching your children the Word of God and hiding it in their hearts from the time they are young. Help them to desire to be married and have children by modeling a great relationship with your husband and enjoying being a mother and homemaker. Make it look like it's the best thing in the world because it is. It was designed by God Himself! We will always be a remnant. Work hard on keeping the remnant being fruitful and multiplying.
Notwithstanding she shall be saved in childbearing, if they continue in faith and charity and holiness with sobriety.
1 Timothy 2:15
Total Page Visits: 1392 - Today Page Visits: 1