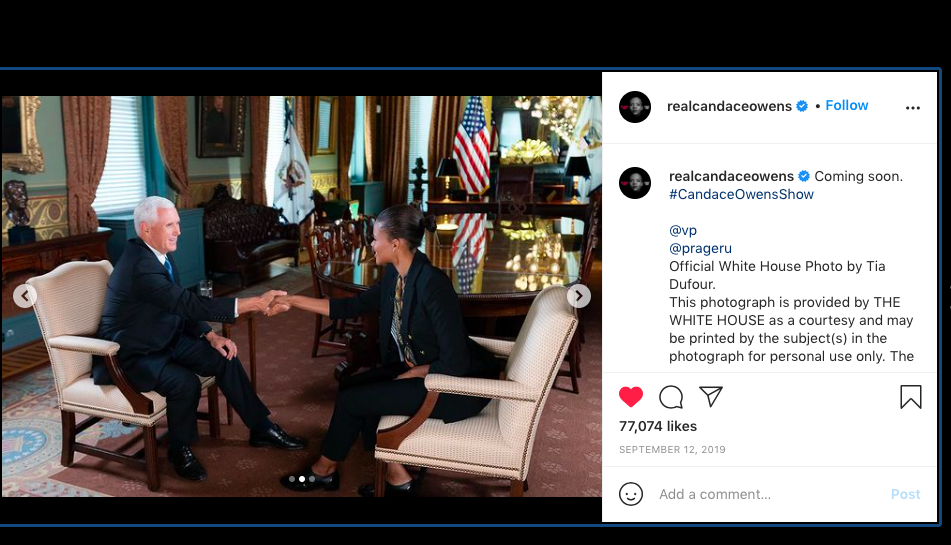 (Owens and Mike Pence in Masonic, thumb on knuckle, hand shake)
Beware of wolves in sheep clothing or women in shirtless blazers.
Disclaimer: If Candace Owens is/was controlled opposition for the Deep State –she is one hell of an actress. Although, I don't agree with all of her views and opinions –many are excellent and she is a great conservative voice–however –that said….
By Long-Time Reader(henrymakow.com)

Did the Deep State initially position Candace Owens on the Democratic Left to push the White Supremacists agenda?
Curiously, Candace Owens was launched into the public eye as the new Rosa Parks at the age of 17. Teenager, Candace Owens said she received three racist death threat voicemail messages, totaling two minutes, that were traced to a car in which the 14-year-old son of then-Mayor, and future governor, Dannel Malloy was present.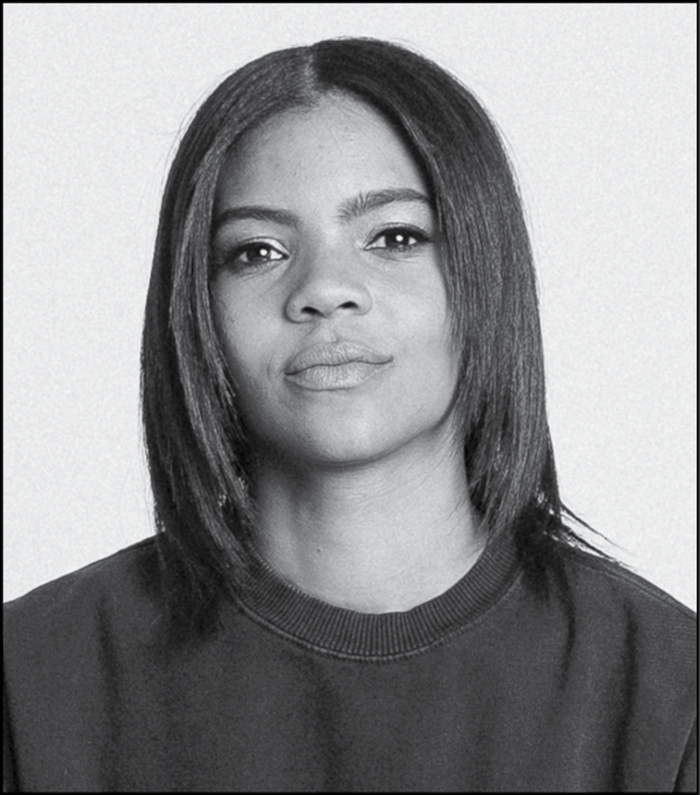 (Her expression says disillusioned and cynical)Joshua Starr, the city's superintendent of schools, listened to the voicemail messages and said that they were "horrendous". The NAACP came to Ms. Owens' rescue by representing the Ms. Owens family, who sued the Stamford Board of Education in federal court, alleging that the city did not protect her rights, resulting in a $37,500 settlement in January 2008. Was this a contrived false flag? Candace Owens gave a TEDx talk on the subject–which has been suspiciously scrubbed from the internet and TEDx talks archives.
Candace Owens pursued an undergraduate degree in journalism at the University of Rhode Island then dropped out, similar to other, Deep State players, Bill Gates, Mark Zuckerberg, Lex Wexner, etc– no time to waste in University.
Afterwards, Ms. Owens worked as an intern for Vogue magazine in New York, a highly coveted position, usually reserved for graduates. An insider comments, "A Vogue internship is very difficult to get without connections into the DS media machine." In 2012, Ms. Owens took a job as an administrative assistant for a private equity firm in Manhattan, New York, later moving up to become its vice president of administration, another meteoric rise, typical of Deep State operatives.
FORMERLY A COMMIE At the age of 26, in 2015, Ms.Owens was CEO of Degree180, a marketing agency that offered consultation, production, and planning services, an arm in the Deep State media machine.
The website included a blog, written by Ms. Owens, which frequently posted anti-conservative and anti-Trump content, including mockery of his penis size. In a 2015 column that Ms. Owens wrote for the site, she criticized conservative Republicans, writing about the "bat-shit-crazy antics of the Republican Tea Party," adding, "The good news is, they will eventually die off (peacefully in their sleep, we hope), and then we can get right on with the OBVIOUS social change that needs to happen, IMMEDIATELY.

Ms. Owens also wrote a piece titled, "Fuck Girl Code: I Can Hook Up With Your Ex-Boyfriend if I Want."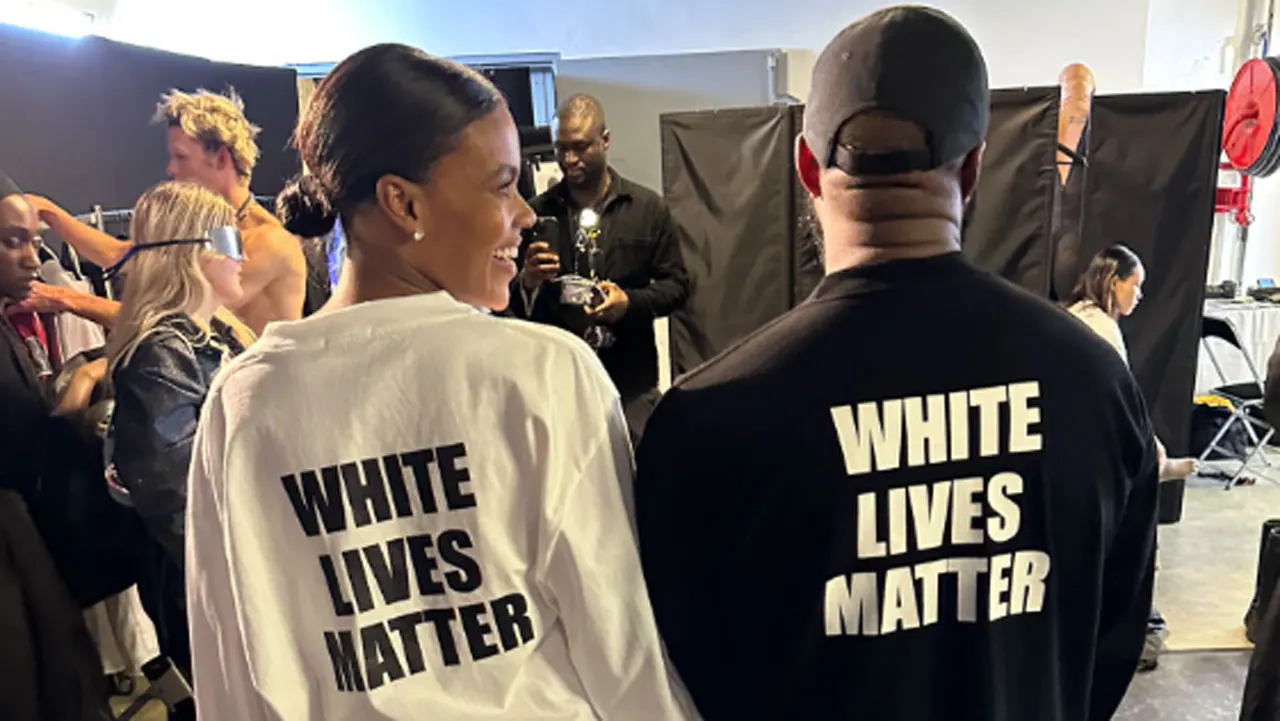 But, when the unexpected 2016 Trump election win happened, did the Deep State concoct a reason for Ms. Owens to flip sides to infiltrate the Republican Conservative Party as their darling woman of color? Perfectly timed, the "Gamergate Controversy" developed in which Ms. Owens blamed the progressives giving her the "reason" to become a conservative, saying in 2017, "I became a conservative overnight … I realized that liberals were actually the racists. Liberals were actually the trolls."
Candace Owens was brought into the conservative fold by alleged controlled opposition Breitbart Deep State Milo Yiannopoulos, who was ousted after outing himself as a willing victim and Stockholm Syndrome supporter of pedophilia. By May 2018, after Ms.Owens took a job with Turning Point USA, she was hobnobbing in Jerusalem with Jared Kushner and Ivanka Trump at the opening of the US Embassy there.
In early 2019, three weeks after they met, Ms. Owens became engaged to British aristocrat George Farmer, an Oxford University graduate, hedge fund employee, and former chairman of Turning Point UK. George's father is Lord Michael Farmer, (a titled Baron) (born 17 December 1944) is a British businessman, philanthropist, former treasurer of the Conservative Party, and life peer in the House of Lords, a member of the House of Lords.
THE JEZEBEL PROGRAM
The Deep State has different programs in which they use females for their various aims, for example, some push their feminist agenda (CIA asset Gloria Steinem); others get manipulated into the Honeypot operations (Epstein's trafficked victim-girls) and some join the Jezebel program, which grooms and places ambitious women into political positions.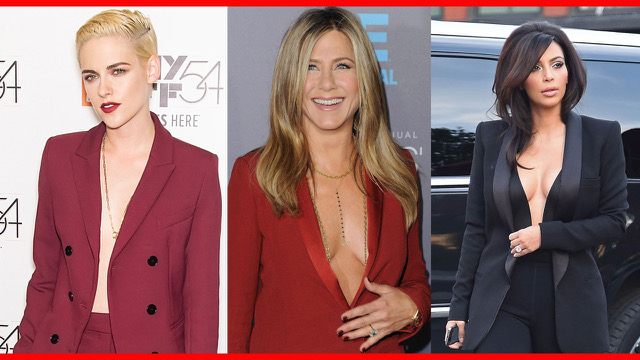 (THE POWER LOOK)
Queen Jezebel is recognized as one of the powerful women in the Old Testament. In the biblical text she is introduced as a 'foreign' queen and wife to King Ahab. Politically minded, she is an infiltrator, who destroys Ahab's kingdom. Jezebel is doubtless the most infamous of all the female figures in the Hebrew Bible. She is seen as the embodiment of feminine evil.
The Deep State officiates and ordains women into their Jezebel program via an occult sexual sacrifice ritual in which the demon Jezebel, who is the drag queen transexual demon known as "Baphomet" is sexually inserted into their body and soul, i.e. the Jezebel demon possesses its host through sexual intercourse.
Jezebel's aim is to defile God's people and make them unholy. She achieves her aim through the use of three things:
1. Sexual immortality – that is, lust, fornication and adultery.
2. Idolatry or idol worship.
3. False doctrines or teachings or heresies.
Jezebels are known by a haughty or mischievous smile and/or cackling laugh combined with dressing to look sexually provocative or sexy, often in men's wear
Link, Exorcism of Jezebel Spirit:
The Deep State uses various signals, such as hand gestures, rings, pins, clothing etc to publicly notify-in plain sight – the world and its cabal network that they are in "The Club."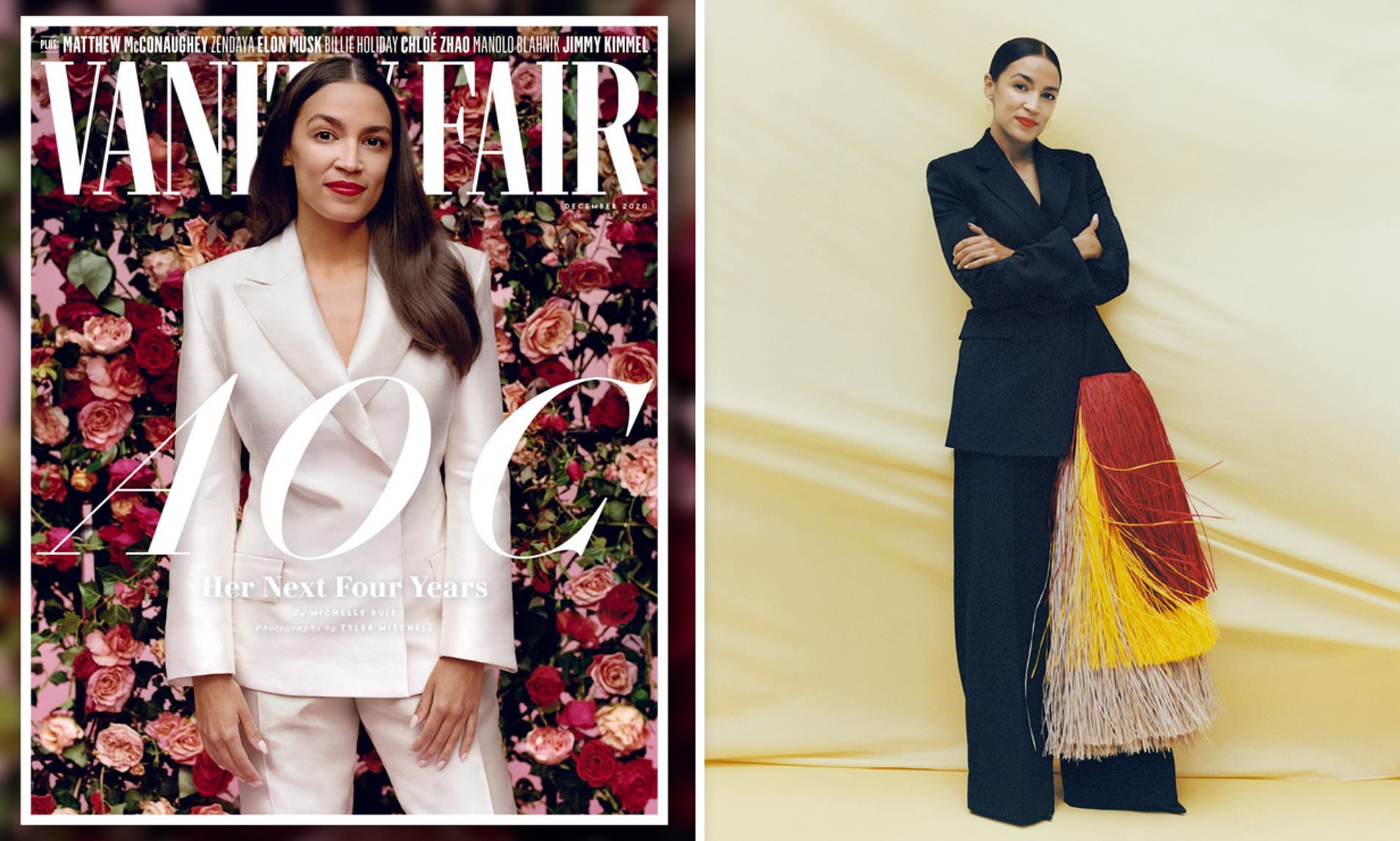 Deep State Jezebels signal, who "They" are by publicly posing in provocative men's clothing that pushes the envelope and in particular wearing the shirtless blazer pants suit with their evil smile and/or laugh. To help give them cover and normalize the humiliating and slutty look, celebrity women began the shirtless blazer "fashion trend" about 2008. Then political women joined the uncouth and licentious Jezebel fashion look, by boldly sporting the shirtless blazer with zero sense of modesty.
Further, did Ms. Owens signaled her Deep State ties by publishing on Instagram her official White House photos with pedophile Mike Pence in September 2019. Mike Pence was first publicly outed as a Deep State child trafficking operative by his child trafficked victim, adult survivor Tory Smith in January 2017.
Then again Mike Pence was outed by Timothy Holmseth and various alt-media began cross-talk about Mike Pence's alleged pedophilia. Then in late 2020, attorney Lin Wood outed Mike Pence as a pedophile and backed up his allegations in a filed Federal lawsuit, February 2021, verified under the penalty of perjury, stating Lin Wood was in possession of a blackmail video of Mike Pence raping a little girl then murdering her on film, from the estate of Jeffery Epstein.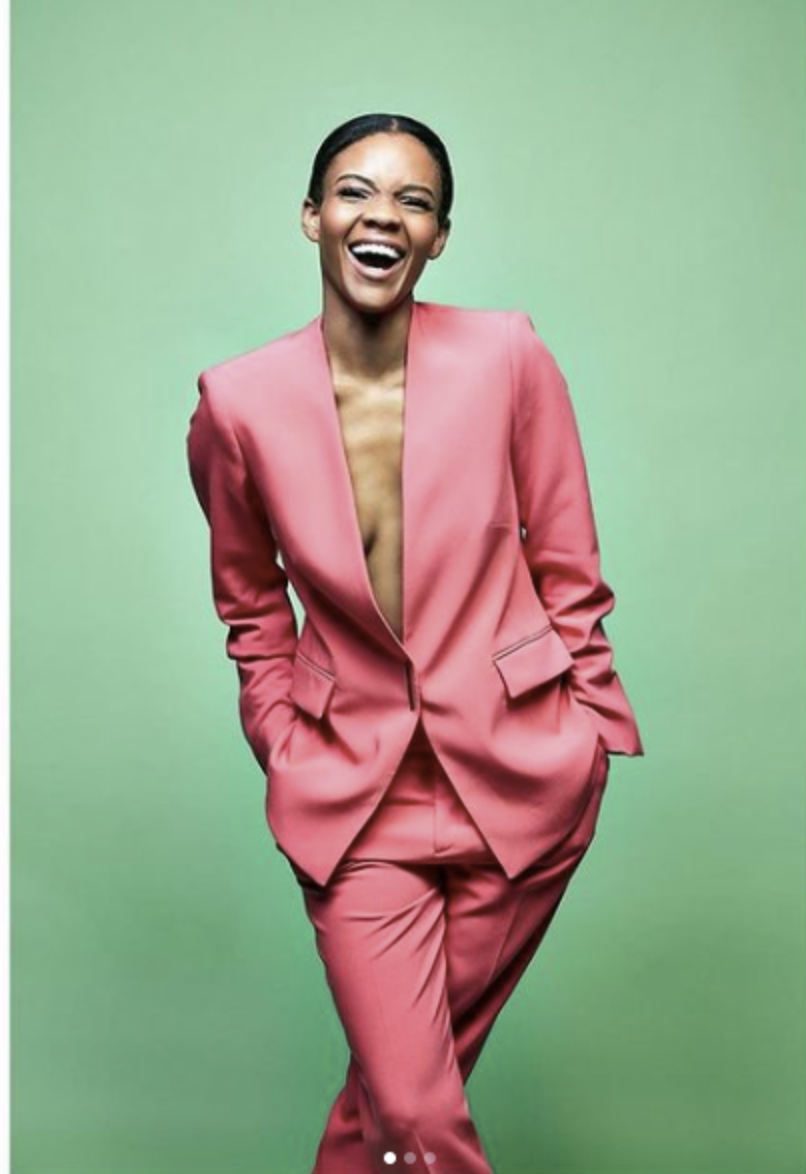 The Deep State has found its more efficient to assassinate the character instead of the person (e.g. President John F. Kennedy). Thus, the Deep State has nefariously maneuvered to character assassinate Lin Wood's character with their smear campaign to discredit him as a nut case to toss his lawsuit. In the face of all the controversy about Election Traitor and Deep State Pedo Mike Pence, why would Ms. Owens continue to post photos with Mike Pence on her Instagram?
Beware of wolves in sheep clothing or women in shirtless blazers.
—-Related – Are Conservative Influencers Crisis Actors?
Total Page Visits: 1404 - Today Page Visits: 1