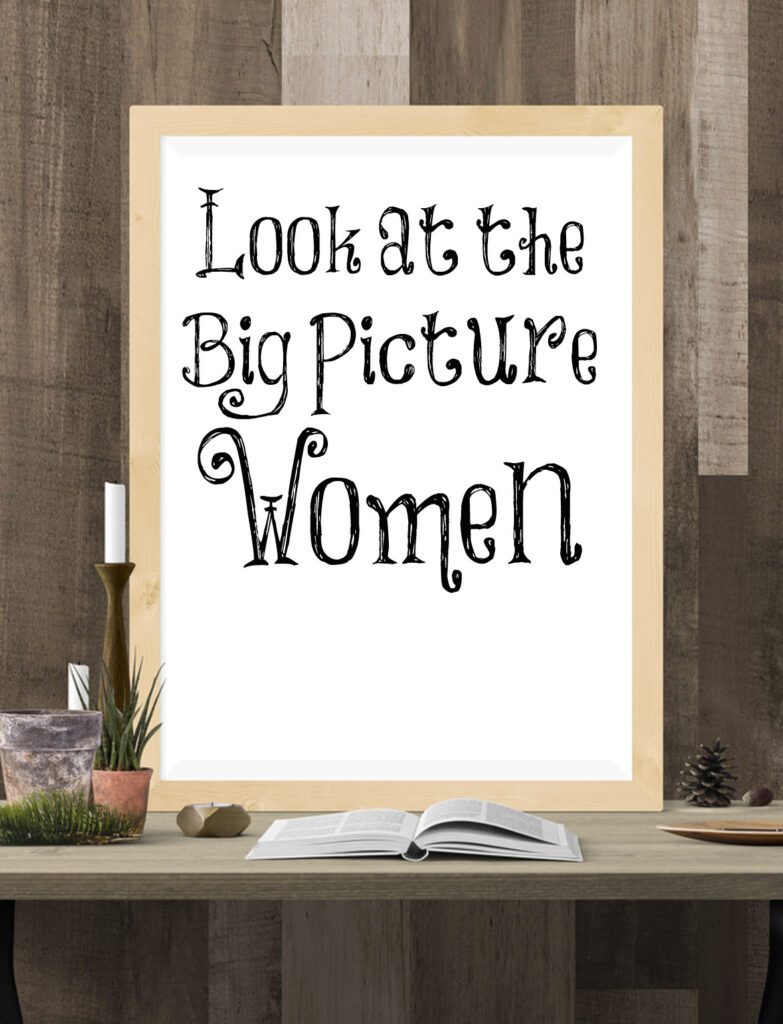 Women tend to look at what worked for them rather than examining the big picture. This is why I am not a fan of the 19th amendment. I will give you a few examples.
College. Whenever I speak against college, undoubtedly there will be women who will tell me they met their husbands at college and have a back-up plan in case something happened to their husbands. This is great BUT look at the big picture! College has wreaked havoc upon many women. They become sexually promiscuous in college and many turn from the faith of the parents. Then they graduate with a ton of debt and carry that burden for many years.
Women owe two thirds of the $1.7 billion in student loan debt! This debt causes them to work if they have children and have strangers raise their children. In many cases, the husbands don't want them to quit their jobs since their wives make more money than them, or their husbands decide they like the money their wives make. College is a HUGE trap that has caused great destruction to marriages, families, children, women, and our nation. THIS is the big picture!
Keepers at home. Women will tell me that their mothers were in the workforce, and they turned out fine. They use their own experience to justify why something is good rather than looking at the big picture. What is the big picture? Divorce has skyrocketed since women left their homes. Women are more depressed and suicidal than ever before. Children are being raised by strangers. Women are more stressed out than ever trying to juggle many balls. Wickedness is invading this land. Satan wants women out of their homes. THIS is the big picture. God wants women to be keepers at home.
Submission. Women cry abuse and try to convince me that submission causes abuse. This mostly comes from women who were actually abused by cruel men, or think they were abused by their husbands. Instead of seeing submission as a good thing in marriage since God ordained it and He is good, they attach their own experience to it and pronounce submission as bad. In every institution, there is an authority structure. If the man isn't the leader in the home, the wife will be. Someone is always wearing the pants and in most homes, it's the women. God intended the man to wear the pants and designated him as head of his wife and home. This leads to peace and order in the home when followed. THIS is the big picture!
Voting. Women come unglued when I try to convince them that giving women the right to vote has been so destructive to this nation. They try to convince me that they are Christian Conservatives, so it's great for them to vote! Look at the big picture, women! Women overwhelmingly vote Democrat. There would have been few Democrat Presidents if any elected if women didn't vote! Women vote for abortion and large government. These are both highly damaging to our nation. Men tend to see the big picture far better than women do. They see the damage that big government has done and is doing to this nation. THIS is the big picture!
Female preachers. "What about all of the people they have led to the Lord?" Women will give me all kinds of reasons and excuses for female preachers. They think they're wonderful because they tickle their ears and make them feel good about themselves. All the female preachers have done is to water down the churches and the clear teachings of the Word. Women are now more easily deceived, since they aren't learning truth. Yeah, female preachers can give truth once in awhile, but they are living in rebellion to God by doing what God forbids. God has ordained men to preach and teach the Word in the churches. This will grow up Christians strong in their faith and be prepared to be salt and light to this wicked generation. THIS is the big picture!
I could go on, but you get the point. Women, become wise. Study God's Word. Look at the big picture. If you can't see it, ask your husband! What's good for you may be horrible for the Church and this nation. Seek to do good and what's right, not what you think is simply good for you.
For the grace of God that bringeth salvation hath appeared to all men, Teaching us that, denying ungodliness and worldly lusts, we should live soberly, righteously, and godly, in this present world.
Titus 2:11,12
https://thetransformedwife.com/look-at-the-big-picture-women/