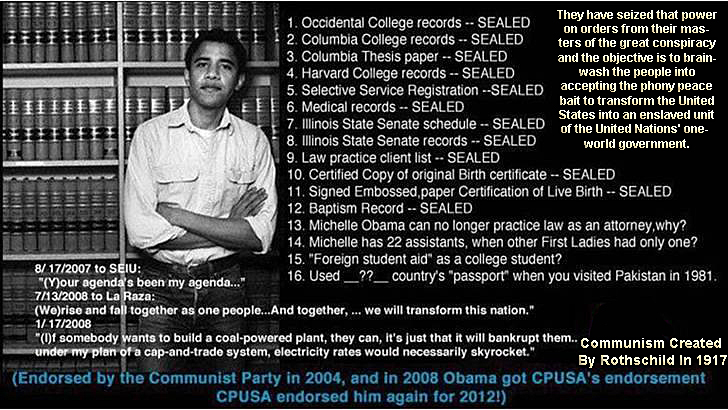 "As the first Black president, Obama is often placed on a pedestal as a moral beacon and compared to such historic figures as Martin Luther King, Jr., and Nelson Mandela. These comparisons are off base, as Obama is an opportunistic and often deceitful politician who has shown a lack of moral integrity throughout his career."
The "Deep State" refers to those institutions that serve the Communist Rothschild world banking cartel. None is more important than the CIA. Most Presidents are CIA assets, none more than Barack Obama who was born into a family of CIA agents.
A Company Family: The Untold History of Obama and the CIA
By Jeremy Kuzmarov –
(Excerpts by henrymakow.com)

CIA Family Connection–Ann Dunham
Obama's record as president should not have been surprising given his family background.
His mother, Ann Dunham, worked for U.S. government agencies and allied NGOs–the Ford Foundation, Asia Foundation, Development Alternatives Inc., and United States Agency for International Development (USAID)–in Indonesia in the 1960s and 1970s as well as Ghana, Nepal, Bangladesh, Pakistan, India, and Thailand.
Ann had training in the Russian language which, with everything combined, made her a "CIA recruiter's wet dream."[8]
The microfinancing projects that she worked on to help turn traditional craft industries into sustainable businesses were designed to "tether third world masses to the mentality of finance capitalism," as Obama's unauthorized biographer put it.
Dunham's boss at USAID in Indonesia, Dr. Donald Gordon Jr., author of Credit for Small Farmers in Developing Countries for USAID (1976), was identified in Julius Mader's 1968 book, Who Who's in the CIA, as a CIA agent.[9]
Another boss, Peter Geithner, was future Treasury Secretary Timothy Geithner's father. [Source: findagrave.com]
Ann obtained her Bachelor's and Master's degree in anthropology at the University of Hawaii, writing a thesis which argued that Indonesian villagers were dynamic and could produce greater wealth if they had access to market incentives and capital.
Ann went to Indonesia in the mid 1960s at the time that the CIA supported a military coup led by General Suharto against the left-wing regime of Sukarno.
Over two million suspected members of the Indonesian Communist Party (PKI) were rounded up and massacred in its aftermath and thousands more were imprisoned–many for decades.
Much of Ann's anthropological and consulting field work was carried out in East and Central Java, which provided a hotbed of support for the PKI–including among members of the Javanese women's association and labor federation.
The CIA at this time employed anthropologists and development workers as undercover agents to gather information on villagers' political affiliations, in which Ann, according to her thesis adviser, Alice Dewey, had taken an interest…
CIA Family Connection–Stanley Armour Dunham
Obama's grandfather Stanley Armour Dunham–who helped raise him–served with the 9th Air Force Division in World War II.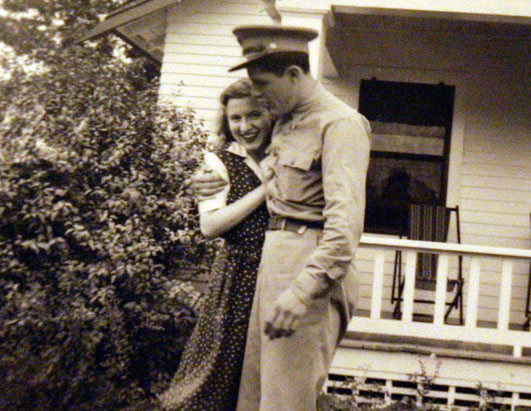 He was pictured in a military uniform with no insignia, which suggests an intelligence unit.
Another photo featured his daughter Ann, with the insignia of an elite school in Lebanon on her shirt in the 1950s, where Stanley may have worked with the CIA or another U.S. government agency.
In the early 1960s, Stanley Dunham was part of a group photo taken with Barack Obama, Sr., on his departure from the University of Hawaii.
Obama Sr. had been part of a State Department/CIA exchange financed in part by the Joseph P. Kennedy Foundation that brought future African leaders to the U.S. who were being groomed to serve U.S. interests in the Cold War.
The photo would suggest that Dunham was one of the coordinators of the exchange, indicating work for the State Department or CIA.
According to his official biography, Dunham worked as a furniture salesman for the Standard-Grunbaum Furniture Company, which led to his frequent travel and family moves.
Independent researchers believe, however, that this job was a cover for his work as an intelligence agent, who surveilled radical groups, or military or Air Force production facilities, which is what brought him to Hawaii.
Dunham's favorite bar in Honolulu, to which he brought young Barry, perhaps not coincidentally was owned by William J. Lederer, a known CIA agent who wrote the Cold War classic, The Ugly American. Barack Obama, Sr.
Obama's purported Kenyan-born father, Barack Obama, Sr., had met his mother in 1960 when he was twenty-three and she eighteen in a Russian-language class at the University of Hawaii.
The leader of the opposition Kenyan African Democratic Union (KADU) condemned the exchange Obama was part of for favoring certain tribes–the majority Kikuyu and minority Luo–over other tribes to support the Kenyan African National Union (KANU).
The latter's leader, Tom Mboya, was a favorite of the CIA and opposed the Pan-Africanist currents on the continent. He was the one who selected Obama Sr. for the scholarship.
Obama Sr. returned the favor by going back to Kenya to work for the Kenyan Finance and Transport Ministries and an oil firm in Kenya before dying in a car crash in 1982. Mboya himself was assassinated in 1969.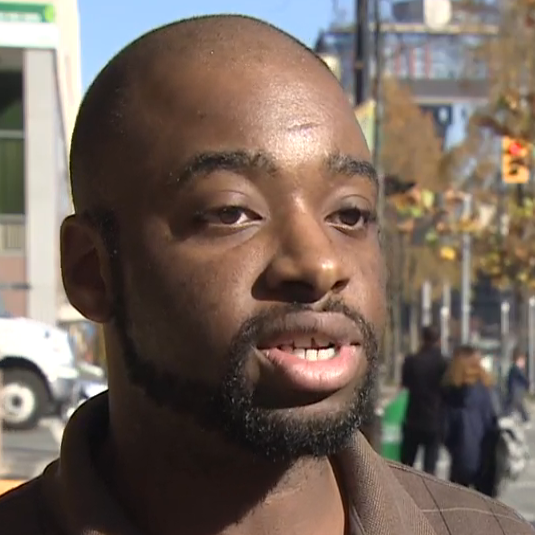 (Obama's real father was probably his "mentor" Communist pornographer Frank Marshal Davis)
Far-fetched as it sounds, Obama Sr. may not have been Obama's real father.
Obama Sr. and Ann never lived together or had a real wedding, and Obama Sr. had no contact with his son, except for a short two-week visit to Hawaii when Obama was ten, which may have been for the purpose of securing Obama a spot in the coveted Punahou Prep School.[12]
The photo of Stanley and Obama Sr. is suspicious because what father in his right mind would be pictured smiling with the man who impregnated his teenaged daughter and then abandoned her?
There is evidence to suggest that Obama's real father was Frank Marshall Davis, an African American journalist, sexually libertine poet, political radical and alleged target of Grandpa Dunham's surveillance.
Obama's friend Keith Kakugawa told an interviewer that Ann had had an affair with Davis because she was angry that the family had to move to Hawaii, away from her high-school friends who were all attending the University of Washington. Obama's childhood best friend charged in brutal rape
Ann became pregnant and, to hide the truth, Dunham paid Obama Sr.–whom he knew through the University of Hawaii exchange–to marry Ann, giving him the opportunity to extend his visa to attend Harvard.
Barack eventually found out the truth, writing in his first memoir, Dreams from My Father, that "the visits to Frank's house always left me feeling vaguely uncomfortable as if I were witnessing some complicated, unspoken transaction between the two men, a transaction I couldn't understand."[13]
Obama paid tribute to his actual father in a 1981 poem published in the Occidental College Literary Journal called "Pop," which attributes to him features that resemble Davis, and references "Pop's poetry, written before his mother died."
Barack Sr. was not a poet and, although Stanley dabbled in poetry, Barry called him "gramps" and his mother committed suicide before his eighth birthday.[14]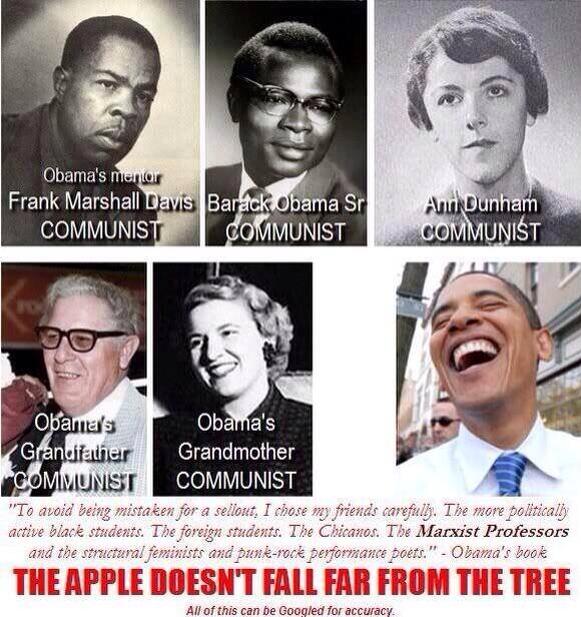 One other connection between Obama and the U.S. national security state lies with his grandmother Madelyn–whom Obama called Toot.
Though lacking a college degree, Madelyn rose to the rank of Vice President of the Bank of Hawaii–which suggests she had high level personal connections.
In that job, Madelyn handled escrow accounts used to pay American Cold War clients in Indonesia, Taiwan, the Philippines, South Korea and elsewhere–including through CIA proprietaries.
The Bank of Hawaii further had dealings with Nugan Hand Bank of Australia through which the CIA funded the constitutional coup d'état against Australian Labor Prime Minister Gough Whitlam in 1975.[15]

Covering Up the Truth
Regarding his own story, Obama has promoted falsehoods at every step.
In A Promised Land, he neglects to mention that, after graduating Columbia University in 1983, he worked for about a year for Business International Corporation (BIC), a Manhattan-based consulting house to multinational corporations, where his job was to edit newsletters on business conditions in countries around the world…
An activist with the Students for a Democratic Society (SDS) described BIC as the guys who wrote the Alliance for Progress (Marshall Plan for Latin America): "They're the left-wing of the ruling class."[18]
Besides underplaying his employment with BIC, Obama in his writings omits the fact that his work as a community organizer was for the Gamaliel Foundation, a satellite of his mother's old employer the Ford Foundation, whose underlying aim was to prevent class solidarity and the revival of Martin Luther King, Jr.'s inter-racial poor people's movement.[19]
Obama further leaves out that as an Illinois state senator, he partook in pay-to-play schemes granting favors to political donors like slumlord Tony Rezko who helped him purchase his Hyde Park mansion for below market value, and the CEO of a technology firm, Robert Blacwell Jr., who paid Obama $112,000 in legal fees for work that appears impossible for him to have done.
Obama's timeline for his life story, meanwhile, is often wrong. In A Promised Land, for example, he claims to have spent three years in New York after transferring from Occidental College to Columbia after his sophomore year; however, it is believed that Obama spent the 1981-1982 school year in Pakistan and only studied at Columbia for one year.[20]
——————-
Related– Obama's Real Father Pornographer Frank Davis
————– Obama – Jewish President Fights Israel's Wars
https://www.henrymakow.com
Total Page Visits: 2049 - Today Page Visits: 1