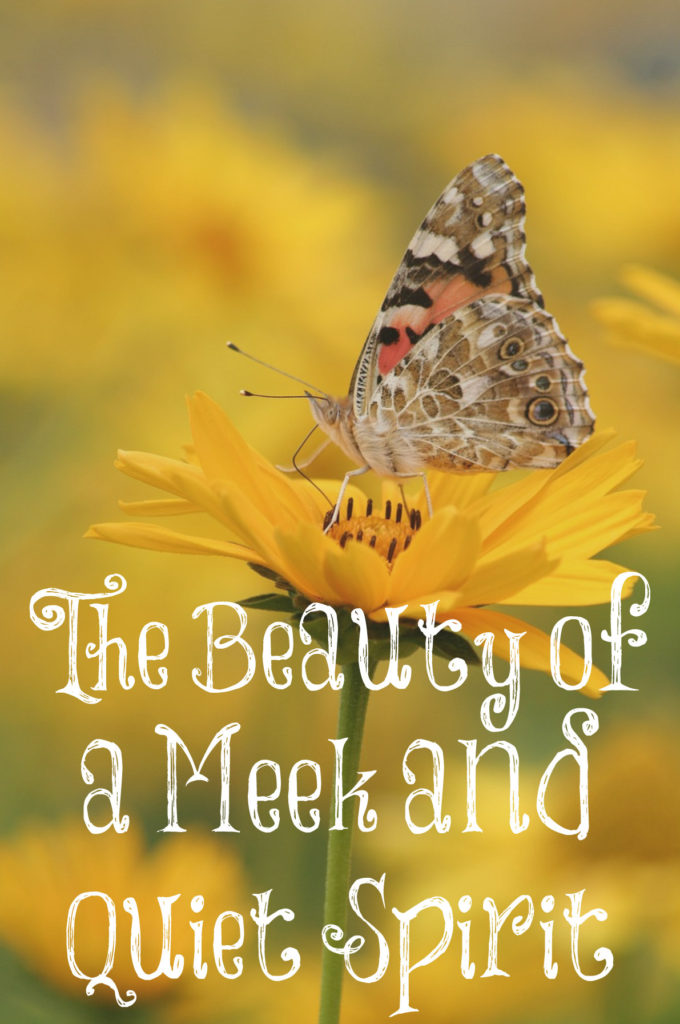 Godly women are commanded to have meek and quiet spirits. I have written about this before and have a chapter of it in my book "Biblical Womanhood A Study Guide." It's something that we need to be reminded of on a regular basis since having a meek and quiet spirit is the opposite of what women are being taught these days. "But let it be the hidden man of the heart, in that which is not corruptible, even the ornament of a meek and quiet spirit, which is in the sight of God of great price" (1 Peter 3:4). This is true beauty, women, and that which is the perfect formula from Almighty God for having a long, life-lasting marriage.
"The ornament of a meek and quiet spirit – Of a calm temper; a contented mind; a heart free from passion, pride, envy, and irritability; a soul not subject to the agitations and vexations of those who live for fashion, and who seek to be distinguished for external adorning. The connection here shows that the apostle refers to this, not only as that which would be of great price in the sight of God, but as that which would tend to secure the affection of their husbands, and win them to embrace the true religion, (see 1 Peter 3:1-2); and, in order to this, he recommends them, instead of seeking external ornaments, to seek those of the mind and of the heart, as more agreeable to their husbands; as better adapted to win their hearts to religion; as that which would be most permanently proved." (Barne's Notes on the Bible)
Having a meek and quiet spirit means being led by the Spirit and not the flesh. It means we aren't led by our emotions and feelings but by the truths found in God's Word. We do this by renewing our minds with His Word and taking every thought captive to the obedience of Christ. God is the One who can transform you into this kind of woman, women! It's not in your own power but in His Spirit that works mightily within you.
"…even the ornament of a meek and quiet spirit; this is one, and a principal part of the inward adorning, or hidden man of the heart; and those that are possessed of such a spirit are not easily provoked to anger; patiently bear, and put up with injuries; carry themselves affably and courteously unto all; entertain the meanest thoughts of themselves, and the best of others; do not envy the gifts and graces of others, and are willing to be instructed and admonished by the meanest saint; quietly submit to the will of God, in all adverse dispensations of Providence; and ascribe all they have, and are, to the free grace of God, and reckon that when they have done all they can, they are but unprofitable servants.
"This grace of meekness, humility, and quietness, is a fruit of the Spirit, and so a part of the hidden man, and is what is very ornamental to a believer; it is his clothing, his inward adorning, and what makes him lovely in the sight of God, and of his people; see 1 Peter 5:5 and it is very useful to him in hearing the word, in giving a reason of the hope that is in him, in restoring others, and in showing forth a good conversation; and particularly it greatly becomes, and exceedingly beautifies women professing godliness; who ought to bear much with their husbands, and be in silence, which is what the apostle has a principal regard unto" (Gill's Exposition).
We can do all we can to make ourselves beautiful on the outside but if our inside is ugly, we will be ugly since beauty is only skin deep. All of the godly qualities mentioned by these men of old are attainable by us since we are new creatures in Christ, and we are told that we have everything we need for life and godliness. Now, it's your job to believe this and set aside time to grow in the wisdom and the knowledge of God. Let His Word dwell in you richly.
According as his divine power hath given unto us all things that pertain unto life and godliness, through the knowledge of him that hath called us to glory and virtue.
2 Peter 1:3
***I have decided to close down the comment section. There are one or more women leaving filthy comments on my blog every single day, sometimes up to 40 of them. It's not worth my time or effort to delete these, and I don't want to see them. Besides, my blog is for teaching purposes only. It's not for debating or contention.
https://thetransformedwife.com/the-beauty-of-a-meek-and-quiet-spirit/
Total Page Visits: 2519 - Today Page Visits: 2